Dear Friends and families of AUSW,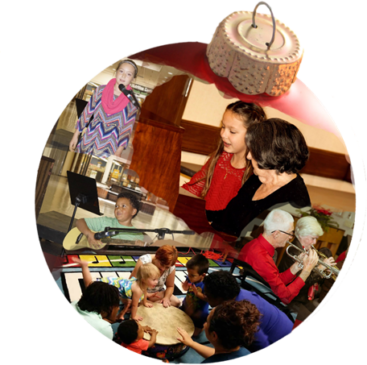 I would like to tell you about the work that we do at Arts Unlimited Southwest and invite you to play a part.  We believe that "one voice can make a song (and that) one life can change the world", but we also know that in partnering with you, we can have an even greater impact.
Arts Unlimited Southwest is a 501 (c) (3) not-for-profit organization in Cleburne, Texas, that touches the lives of people of all ages, from babies to senior adults, and helps to meet the needs individuals of varying abilities, backgrounds and income levels.  We can tell you stories of our work through the 75- year-old man with COPD that came to play in the New Horizons Band.   Severe breathing problems frustrated his efforts to take part in musical exercises, but a year later, he was breathing well enough to play a solo in the Christmas concert.  We can tell you too about the mom with post-partum depression that overcame it in creating music with her baby in Music Together.  Even a child with delayed speech found his voice while playing instruments and trying to sing in our baby music class.
You may contribute in other ways as well:
 

Volunteer as ushers, mentors, presenters, or sponsors.

 

Donate used instruments  to Arts Unlimited Southwest.

Attend our community events.  Your attendance to these events helps to encourage our students to become better artists.
Make a tax deductible donation to Arts Unlimited Southwest today - Tax ID 90 0760022 
Mailing Address:
P.O. Box 361 Keene, TX 76059
Physical Address:
1663 West Henderson Street (Inside Nolan River Mall) Cleburne, TX 76033